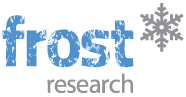 NEWS
Frost Research is now supporting the Warwickshire charity Doorway. Find out more about Doorways work on their website www.doorway.org.uk
8th May 2012
AN INTRODUCTION
TO FROST RESEARCH

At Frost Research we are committed to providing first class value for money solutions for all your qualitative market research needs. From small-scale UK projects to international multi-market research, everything we undertake is guided by the dynamic philisophy which has driven us successfully forwards since our creation in 2002.
Our approch is founded on three key themes:
The Personal Touch
Creative and Cooperative Thinking
Bringing the Consumer
to the Client
We combine this fresh and flexible approach with thorough professionalism, highly competitive pricing, and extensive international experience. As a result, we are able to tailor each and every project to guarantee you immediate, in-depth and actionable results.